The Instrument Rating (IR) Single Engine is an additional authorization to fly a single engine aircraft according to Instrument Flight Rules (IFR).
The training is divided into theory and practice. We as a flight school do not reduce the theoretical training to the possible minimum of 8 hours, but offer you a theoretical training on ATPL level.
Within the framework of the theoretical training you will therefore complete at least 50 hours in the classroom - with the invaluable advantage of being able to ask questions. However we also offer you the opportunity - without additional costs - to take part in the entire ATPL theory classroom to the extent of 150 hours.
This is the only way to ensure that you will be able to fly an aircraft under instrument conditions. Because once visibility is gone, only good training - both theory and practice - can get you safely back on the ground.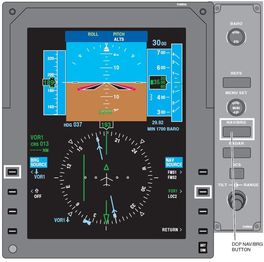 Entry requirements for IR Single Engine
Minimum age 17 years
PPL (A) with Night VFR or valid CPL
50h cross country flights as PIC, thereof at least 10h on aircraft
VFR/IFR radiotelephony certificate
valid English Language Proficiency min. Level 4
Aviation Medical Certification Class 1 or 2 - IR checked
If a CPL (A) license applies, then the total flight time can be reduced by 5 hours.
2-4 months(as an experience value, with planned training course and depending on your time availability). You determine the pace of your training yourself!
Course structure IR Single Engine
Your training for IR Single Engine is divided into 2 blocks: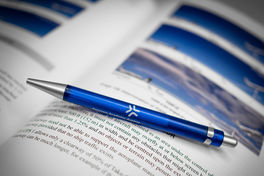 The theoretical training for the IR (A) consists of 150 hours with at least 50 hours in the classroom in our flight school.
We are one of the few flight schools that emphasize in-depth training in the classroom.
The theory course includes the following subjects:
Air law General
Aircraft knowledge
Flight performance and flight planning
Human performance
Meteorology
Navigation incl. PBN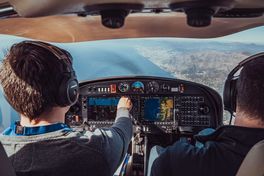 This part of the training covers the practical training for IR SE.
The training to obtain IR (A) for single-engine aircraft must include at least 50 hours of instrument flight. Of these, up to 35 hours may be completed in FNPT II.
Flight training leading up to the practical examination for obtaining an IR (A) for single-engine aircraft must include the following:
Flight preparation for instrument flight rules operations, including use of the flight manual and appropriate air traffic services documentation
Procedures and exercises for instrument flight rules operations under normal, abnormal, and emergency conditions to include the following:

Transition from visual flight to instrument flight at takeoff
Standard procedures for approaches and departures under instrument flight rules
IFR enroute procedures
Holding procedures
Instrument flights up to the specified minimum
Missed approach procedures
Landings after instrument approaches including circling approaches
Training costs IR Single Engine
The costs of the training are divided into theoretical and practical training. For the practical training, the minimum hours required according to the EASA PPL training plan are specified. Landing fees and the examination flight incl. examiner are not included in the price.
| | |
| --- | --- |
| Designation | Price |
| Theory package | |
| IR theory course incl. Boeing Courseware, online training and classroom | 2.500,-€ |
| DA40NG introduction and Garmin G1000 training | 400,-€ |
| Theory training total | 2.900,-€ |
| | |
| Flight training | |
| 35 block hours FNPT II Simulator | 4.987,50€ |
| 15 block hours DA40NG G1000 | 3.487,50€ |
| 50 block hours flight instructor | 3.600,-€ |
| 28 session fees (briefing/de-briefing) | 1.680,-€ |
| Practical training total | 13.755,-€ |
| | |
| ATO fee (registration, documentation) | 400,-€ |
| | |
| Total Price excl. VAT | 17.055,-€ |
| 20% VAT | 3.411,-€ |
| Total Price incl. VAT | 20.466,-€ |
| | |
Payment conditions: Before the start of the training, payment of the theory and AFC fee at 100% and deposit of the practice at 30%. Further payments as well as required additional hours and the flight examination will be charged monthly according to expenses. The cancellation fee is 30% of the total price.
License and exam fees and applicable landing fees are in addition to the training costs.
Qualification IR Single Engine
You complete the training with the entry IR SE in your pilot license. You are now authorized to fly single-engine aircraft under instrument flight conditions. Congratulations!
Interested? Then register now!
The shortest path to your high-end education?
Contact:
They will be more than happy to advise you!