PPL Private Pilot License
The freedom must be boundless above the clouds!
Do you also look towards the sky and dream of flying an airplane?
Push the thrust lever forward yourself and slowly pull the airplane´s nose up?
Then the PPL is your exciting entry into the world of flying.
Set yourself new goals! It's never too late to face new challenges.
What does the license entitle to?
The PPL(A) entitles you to non-commercial piloting of single-engine aircraft or TMGs (Touring Motor Gliders).
After successful training, you can make trips and sightseeing flights with family and friends. Business trips can also be made very efficiently. Distances shrink and you can reach new destinations that were not on your map before.
The PPL is also the basis for a more advanced training such as Instrument Rating IR or Multi Engine Piston MEP.
The road towards the license
Obtaining a Private Pilot Licence (PPL) for single engine piston aircraft (SEP) including a radiotelephony certificate (EFZ/German & English) is easier than you think!
The theoretical training and also the practical training take place at the airfield Wr. Neustadt LOAN. In our commercial flight school you fly with professional pilots as flight instructors. The training flights are carried out with the ultra-modern DIAMOND DV 20E (Katana) and the modern 4-seater DIAMOND STAR DA40.
We put special emphasis on the theoretical training because a good theoretical education is the foundation of flying. That is why the personal instruction with us includes 67 hours - far more than most other flying schools. The practical PPL training comprises 45 hours.
Glass cockpit. Analog instruments are past!
We only use aircraft from the manufacturer Diamond Aircraft, which also has a headquarter at our airfield. All our training aircraft have the powerful Rotax engine with 100HP and are equipped with the modern Garmin 500 glass cockpit.
Your PPL flight training will take place on the DV20 E Katana, Diamond Aircraft Industries' specially designed training aircraft with the modern Garmin 500 glass cockpit. This state-of-the-art aircraft type was developed by us together with Diamond and is currently only used by us. No matter which type you will fly later, the professional training with us is the foundation!
Entry requirements for the PPL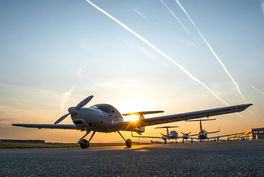 Minimum age 16 years
Very good English language skills
Clean criminal record
Aviation Medical Certification Class 2
European passport, valid residence permit or student visa
4-6 months (as an experience value, with planned training course and depending on your time availability). You determine the pace of your training yourself!
Your training is divided into 5 blocks:
The costs of the training are divided into theoretical training and practical training. For the practical training, the minimum hours required according to the EASA PPL training plan are specified.
| | |
| --- | --- |
| Designation | Price |
| Theory training | |
| Theory course incl. Boeing Courseware, online training and classroom | € 1.450,- |
| Upgrade: radiotelephony certificate AFZ | (€ 250,-) |
| Upgrade: Material for theory part (Pilot case, logbook, navimat, fuel drainer, kneeboard, E6-B Flightcomputer) | (€ 165,-) |
| Theory training total | € 1.405,- |
| | |
| Flight training | |
| 45 block hours Katana DV20E | € 7.020,- |
| 45 block hours flight instructor | € 2.700,- |
| Practical training total | € 9.720,- |
| | |
| AFC ATO Fee (registration, documentation, etc.) | € 250,- |
| | |
| Total Price excl. VAT | € 11.375,- |
| 20% VAT. | € 2.275,- |
| Total Price incl. VAT | € 13.650,- |
Payment conditions: Before the start of the training, payment of the theory and AFC fee at 100% and deposit of the practice at 30%. Further payments as well as required additional hours and the practical examination will be charged monthly according to expenses. The cancellation fee is 30% of the total price.
Medical Class 2 fees, license and examiantion fees as well as applicable landing fees (in LOAN at the favorable school landing rate) are added to the training costs.
You complete the training with an EASA PPL (Private Pilot License). The SEP (Single Engine Piston) rating is entered in your pilot license. This entitles you to fly single-engine aircraft under visual flight conditions. Congratulations!
Interested? Then register now!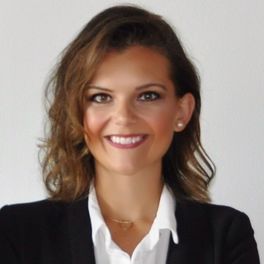 The shortest path to your high-end education?
Contact:
They will be more than happy to advise you!