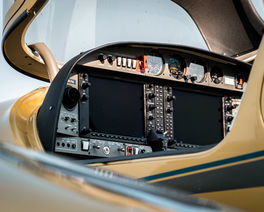 We offer customized solutions for many special requests:
Night vision flight NVFR
Garmin 1000 Training
Garmin 500, GTN 650 Training
DA40NG Differences Training
DA42 Differences Training
Training on the FNPT II
Flight Instructor Course (FI Course)
...
Please feel free to contact us. We are looking forward to making you a tailor-made offer as well.
for example: training on the FNPT II simulator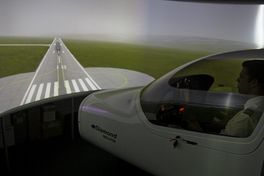 The FNPT-II is a fixed (no motion system) flight training device. In addition to the requirements of the FNPT-I, the FNPT-II must have a visual system and represent a class or type of multi-engine aircraft. Flight characteristics, soundscape and (fault) behavior of the systems must match that of a real aircraft and the installation must allow practice of system failures and handling of emergency procedures in a realistic manner. FNPT-II can be used in addition to the basic training of instrument flight also partly for obtaining a class rating.
The major advantage of simulator training, apart from the cost reduction, is of course the training effect. The pilot's flexibility is trained, different scenarios are practiced and thus flight safety is increased.
Available seven days a week, around the clock, this device offers the possibility to train efficiently. From engine failure, to unintentional entry into clouds, to oil loss, instrument failure, severe turbulence, crosswinds and much more to experience in the most real environment possible. Situations that would be too dangerous to practice in reality can be practiced safely here.
Especially in IFR training a simulator is an important help. Procedures can be stopped and explained at any time or situations can be rewinded for a few minutes and repeated. Countless possibilities that are simply impossible in the real aircraft.
But also in the PPL training the simulator is used to teach extreme flight conditions and the basics of navigation by instruments.
Efficient training in the simulator
Flying in the simulator means:
To gain the maximum training effect: First learn to understand and then fly the aircraft!
Interrupt immediately with the freeze button and be able to train misunderstood or incorrect flight situations again immediately. The flight instructor restores the previous flight situation.
Explanations compared to real training are possible immediately and there is no need to continue flying on the aircraft on route unnecessarily.
Efficient holding training without having to pay unnecessary time at the aircraft!
To have color flight evaluations and protocols available for debriefing after training.
By simulating flight situations (e.g. bad weather, engine failure, etc.) emergency procedures, extreme situations and emergencies can be trained without being in danger.
Some of the numerous possibilities:
Different turbulence levels
Change of the weather depending on the set requirements
Different cloud layers
Adjustable visibility
ATIS reacting to current setting, retrievable in the cockpit
Engine failure simulation, overheating scenario
Freely selectable instrument failure, fuse failure simulation
Simulation of pitot tube icing and other pitot faults
Errors or reaction gaps can thus be quickly detected, evaluated and correctly corrected by the instructor as well as the student.
Interested? Then register now!
The shortest path to your high-end education?
Contact:
They will be more than happy to advise you!