Advanced UPRT - Advanced upset prevention and recovery training
UPRT stands for Upset Prevention and Recovery Training and represents a combination of theoretical knowledge and flying training. The goal is to equip the flight crew with the necessary skills to prevent and recover from flight conditions outside of normal line operations or training.
As of Dec. 20, 2019, Upset Prevention Recovery Training is mandatory for commercial pilots (transition period until 2021).
Why do future commercial pilots need UPRT?
What to do if the plane unexpectedly goes into a spin? Or into an upper banked situation or even inverted due to wake turbulences? Then there is no time left for the manual, the recoveries have to work. This is exactly what we practice with our students in the UPRT training.
Upset Prevention Recovery Training "on aircraft" is, according to the EU Commission, an appropriate strategy to prevent undesired flight conditions or loss of control of aircraft (which are among the major risk factors and can lead to fatal accidents in commercial aviation). "Training to prevent and terminate undesirable flight conditions must be integrated into various phases of professional pilots' careers," the EU Commission writes.
From when does the UPRT obligation apply?
The regulation on UPRT (EU-VO 1178/2011) applies from 20.12.2019.
Pilots who already hold a CPL(A), ATPL(A) or MPL license and who would like to obtain a type rating on a type where two pilots are mandatory (multi-pilot aeroplane) or a rating for a high performance aeroplane from 21.12.2019, must complete advanced UPRT training before the rating.
Pilots who have already started training for CPL (A), ATPL (A), MPL or class and type rating courses prior to Dec. 20, 2019, this will be postponed to Dec. 20, 2021 (by which time the current training must have been completed).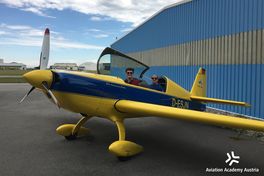 Entry requirements for the Advanced UPRT course
Minimum age 18 years
Very good English language skills
Aviation Medical Certification Class 2
At least LAPL(A) / PPL(A) - with passed CPL or ATPL theory exams
Your training is divided into 2 blocks - theory and practice: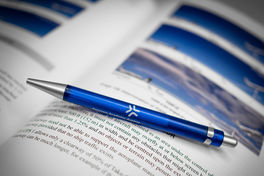 You will start your training with a five-and-a-half-hour theory course.
This includes the following topics:
Aerodynamics
Causes and factors of malfunctions
Recognition of malfunctions
Undesirable aircraft conditions
G-forces: explanation and management
Energy management
Threat and fault management
Human factors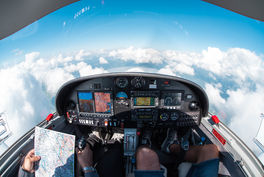 This part of the training includes the three-hour practical training. You will fly 2 hours on the DV20E and 1 hour on the Extra 200.
The training basically covers:
Threats and errors to be managed
Understanding of basic aerodynamics and flight dynamics to mentally integrate an understanding of the "angle of attack" and energy state throughout the portion of the flight envelope used in normal operations
Application of theoretical knowledge to prevent aircraft system malfunctions and pilot-induced malfunctions, as well as those required to correct malfunctions
Training of g-awareness to expose the student to the physiological aspects of g-loading (positive / negative / lateral g-events) to provide experience with the effects of sensory deprivation
Energy and trajectory management training
Training costs Advanced UPRT
The costs of the training are divided into theoretical and practical training. The practical training includes the minimum hours required by the EASA training plan. Landing fees are already included in the price.
| | |
| --- | --- |
| Designation | |
| Theory, 2h DV20, 1h Extra 200, Flight Instructor | |
| Total Price inkl. VAT | € 2.760,- |
You will complete the training with an Advanced UPRT certificate according to Part-FCL.745A.
Interested? Then register now!
The shortest path to your high-end education?
Contact:
They will be more than happy to advise you!